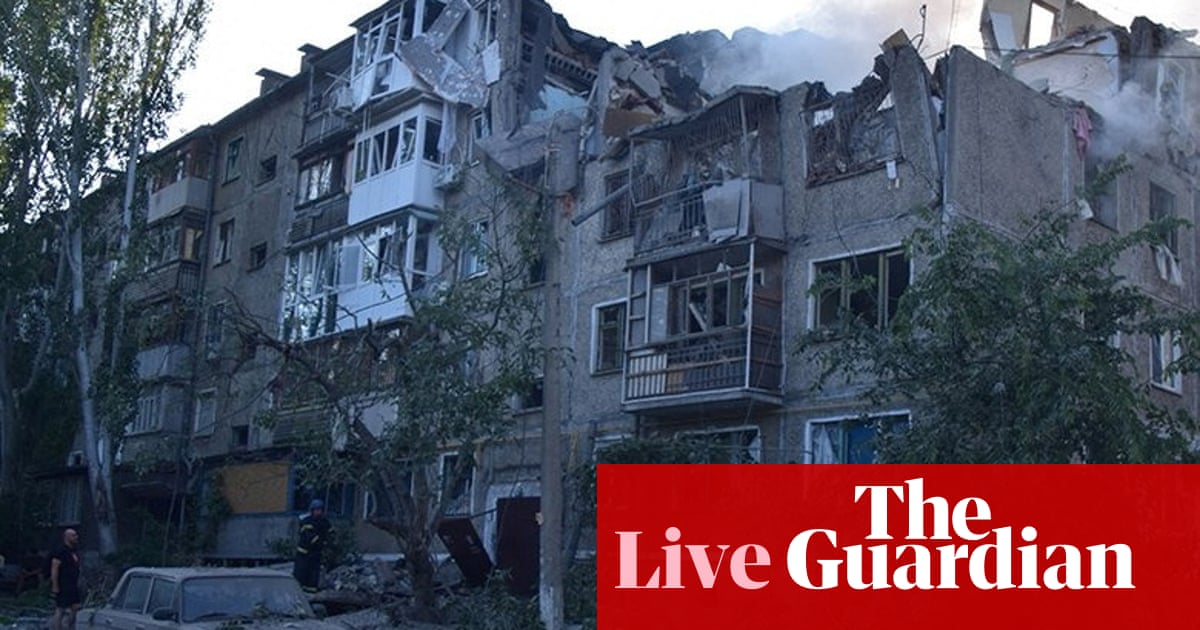 Nato leaders have announced a new "strategic concept" in response to Russia's war against Ukraine which has "gravely altered our security environment", describing Moscow as "the most significant and direct threat to allies' security and stability".
Nato has invited Sweden and Finland to become members of the military alliance, according to a communique published by the Nato summit in Madrid.
The statement reads:
The accession of Finland and Sweden will make them (the allies) safer, Nato stronger and the Euro-Atlantic area more secure.
The alliance pledged further help to Kyiv and agreed on a package of support aimed at modernising the country's defence sector. Nato also said it had decided to significantly strengthen its own deterrence and defence.
The statement continues:
Allies have committed to deploy additional robust in-place combat-ready forces on our eastern flank, to be scaled up from the existing battlegroups to brigade-size units, where and when required underpinned by credible available reinforcements, prepositioned equipment, and enhanced command and control.
Ukraine's defence ministry said 144 Ukrainian soldiers, including troops who were at Mariupol's besieged Azovstal steel plant, have been freed in a prisoner swap with Russia.
The latest prisoner swap was the largest exchange since Russia invaded Ukraine, the main intelligence directorate of Ukraine's defence ministry said on Telegram.
Of the 144 Ukrainian soldiers freed, 95 had been involved in defending the Azovstal steelworks, it said. It did not specify when and where the swap took place or how many Russian prisoners were released as part of the exchange.
Ukraine's president, Volodymyr Zelenskiy, has shared CCTV footage of the moment a shopping mall in Kremenchuk was hit by a Russian missile strike on Monday, saying it was a deliberate attack.
"It is clear that Russian killers received those exact coordinates for this missile [launch]. They wanted to kill as many people as possible in a peaceful city," Zelenskiy said in a video address.
Zelenskiy releases footage of 'deliberate' Russian strike on shopping mall – video
It's 6pm in Kyiv. Here's where we stand:
Nato leaders have announced a new "strategic concept" in response to Russia's war against Ukraine, describing Moscow as "the most significant and direct threat to allies' security and stability". Nato has invited Sweden and Finland to become members of the military alliance, according to a communique published by the Nato summit in Madrid. Leaders also pledged further help to Kyiv and agreed on a package of support aimed at modernising the country's defence sector.
Zelenskiy also accused the Russian president, Vladimir Putin, of becoming "a terrorist" leading a "terrorist state" and urged Russia's expulsion from the United Nations. In a virtual address on Tuesday, Zelenskiy called for the UN to visit the site of Monday's missile strike on a shopping mall in the city of Kremenchuk, which killed at least 18 people.
Hello everyone, it's Léonie Chao-Fong with you today with all the latest developments from the war in Ukraine. Feel free to drop me a message if you have anything to flag, you can reach me on Twitter or via email.
Ukraine's foreign minister Dmytro Kuleba praised Nato for its "clear-eyed stance" on Russia and for inviting Finland and Sweden to join the military alliance.
Kuleba tweeted that Nato leaders had taken "difficult, but essential decisions" at the summit in Madrid today, adding:
An equally strong and active position on Ukraine will help to protect the Euro-Atlantic security and stability.
Today in Madrid, NATO proved it can take difficult, but essential decisions. We welcome a clear-eyed stance on Russia, as well as accession for Finland and Sweden. An equally strong and active position on Ukraine will help to protect the Euro-Atlantic security and stability.

— Dmytro Kuleba (@DmytroKuleba) June 29, 2022
Chief of the Ukrainian presidential staff, Andriy Yermak, also welcomed the message Nato had sent to Russia.
Russia will not defeat Ukraine – Russia is going to be defeated.

That's the message @NATO member states repeatedly emphasize at the summit.

Ukraine and its allies must win this battle for democracy. There's no other way round.
— Andriy Yermak (@AndriyYermak) June 29, 2022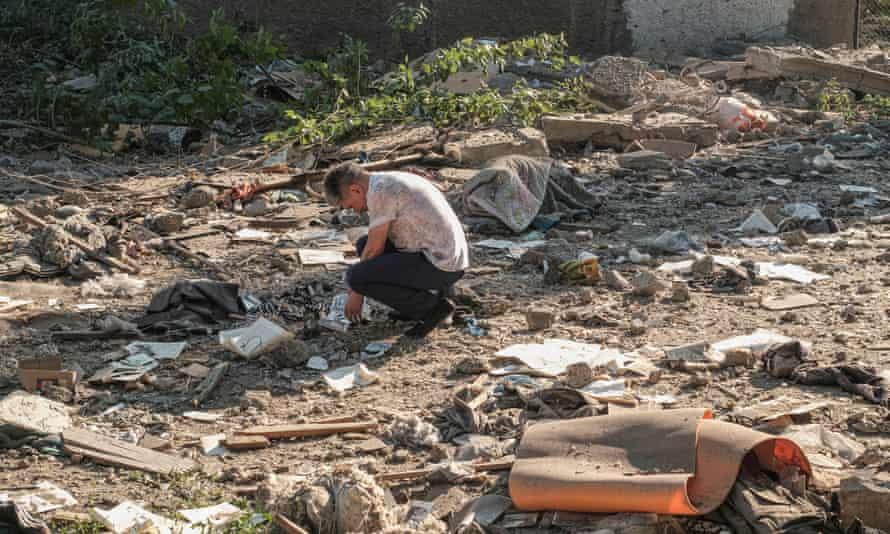 A man examines pictures over the debris after shelling at a residential area in Mykolaiv, southern Ukraine. Photograph: George Ivanchenko/EPA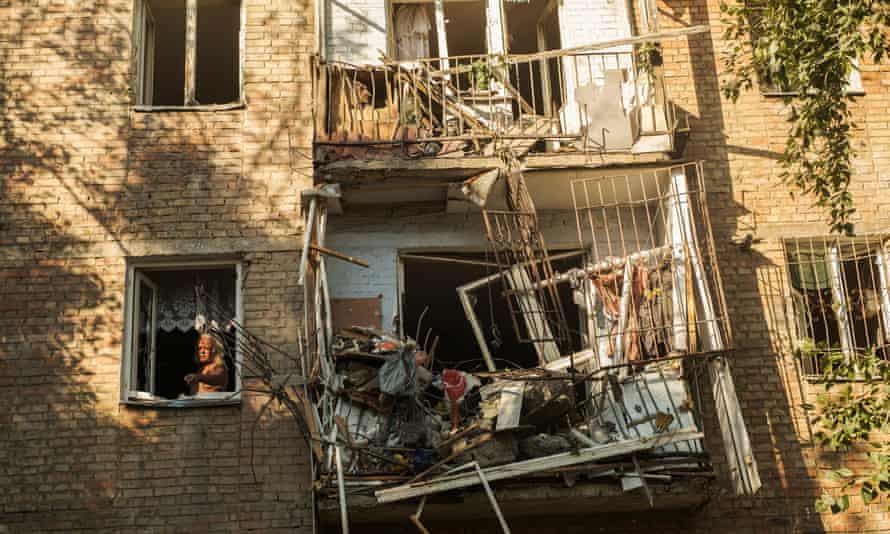 A man stands by a window inside his damaged apartment after shelling at a residential area in Mykolaiv. Photograph: George Ivanchenko/EPA
Syria has said it officially recognised the independence and sovereignty of the Russian controlled territories of Luhansk and Donetsk in eastern Ukraine.
Reuters reports that the Syrian presidency had affirmed its intention to build relations with the two self-proclaimed republics in February, and that today the move was confirmed by state news agency SANA, citing a foreign ministry source.
The self-proclaimed Donetsk People's Republic and Luhansk People's Republic were formed in April 2014. Until now, the only UN member state to recognise their legitimacy had been Russia. South Ossetia, itself a breakaway region recognised by most international states as part of Georgia, has also previously offered them recognition.
Point 41 of the new 2022 Nato strategic concept document directly addresses the possibility of Ukraine joining the alliance in the future. The document reads:
The security of countries aspiring to become members of the Alliance is intertwined with our own. We strongly support their independence, sovereignty and territorial integrity. We will strengthen political dialogue and cooperation with those who aim to join the Alliance, help strengthen their resilience against malign interference, build their capabilities, and enhance our practical support to advance their EuroAtlantic aspirations. We will continue to develop our partnerships with Bosnia and Herzegovina, Georgia and Ukraine to advance our common interest in Euro-Atlantic peace, stability and security. We reaffirm the decision we took at the 2008 Bucharest Summit and all subsequent decisions with respect to Georgia and Ukraine.
Nato has published its new strategic concept in full on its website. The introduction lays out how starkly Nato portrays the threat of Russia, saying:
The Russian Federation's war of aggression against Ukraine has shattered peace and gravely altered our security environment. Its brutal and unlawful invasion, repeated violations of international humanitarian law and heinous attacks and atrocities have caused unspeakable suffering and destruction. A strong, independent Ukraine is vital for the stability of the Euro-Atlantic area. Moscow's behaviour reflects a pattern of Russian aggressive actions against its neighbours and the wider transatlantic community.
The introduction concludes:
Our vision is clear: we want to live in a world where sovereignty, territorial integrity, human rights and international law are respected and where each country can choose its own path, free from aggression, coercion or subversion. We work with all who share these goals. We stand together, as Allies, to defend our freedom and contribute to a more peaceful world.
Download: Nato 2022 strategic concept PDF
The Jens Stoltenberg Nato press conference in Madrid has finished, but while that has been happening, also speaking has been Maria Zakharova, press secretary of Russia's foreign ministry. She has said that Russia does not rule out seizing western assets within its borders.
Reuters quotes her saying Russia was prepared to "act accordingly" if the west decided to use Russia's frozen state assets – chief among them being around $300bn of central bank foreign currency reserves.
Zakharova, dismissed as a "comedy turn" by the UK defence secretary, Ben Wallace, earlier today, said the use of such funds "will be interpreted by us as an unlawful and defiantly unfriendly attack, giving us the right to take retaliatory actions to protect our interests".
"We should not forget about the foreign assets of western countries, businesses and citizens who are located on the territory of our country," she said.
If the west failed to adhere to the principles of democracy, an open economy, private property and judicial independence, then "we will recognise this and act accordingly", Zakharova added.
A Ukrainian journalist at the Nato press conference asked Jens Stoltenberg what the reaction was like from the leaders in the room when Ukraine's President Volodymyr Zelenskiy addressed the meeting. Stoltenberg said "the message from the leaders in the meeting room was a very strong special support."
He went on to say:
Not only a special support, but actually they announced additional systems, weapons, equipment, that our Nato allies are now delivering to Ukraine. It is a message in words and deeds.

I think also it is very clear that allies are prepared for a long war. Wars are unpredictable, but we have to be prepared for the long haul. And that was the clear message to all of us in the room for President Zelenskiy.

And our answer was, yes, we are prepared because they are fighting for their independence, but they're also fighting for values which are important for the sovereignty and territorial integrity of every nation.

And therefore, this matters for our security.

Our focus now is to support Ukraine. This war will, as most other wars do at some stage, end at the negotiating table.

But it is important that Ukraine is able to get an agreement on their terms, which is acceptable for Ukraine. And therefore we know that there is a very close link between what they can achieve around the negotiating table, and their strength on the battlefield.

And therefore our focus now is to support them on the battlefield with many different types of lethal or non-lethal support. That is the focus.
The journalist had also asked what chance Stoltenberg thought there might be after the war for a quick accession to Nato for Ukraine, in a similar manner to the one offered to Finland and Sweden. The secretary general said "Nato's door remains open" and cited the alliance's declaration in Bucharest in 2014 that Ukraine was welcome to apply.
Nato's secretary general, Jens Stoltenberg, is taking questions from the media at the press conference now. The first question was whether Nato would be placing permanent bases in Sweden and Finland once their membership of the alliance was ratified. He said:
First of all, the decision to invite Finland and Sweden to become members demonstrate that Nato's door is open. It demonstrates that President Putin did not succeed in closing Nato's door. Nato's door remains open.

And it also demonstrates that we respect the sovereign right of every nation to choose its own path. So we of course, respect that Finland and Sweden when they decided to stay out of Nato for many, many years, but then we also welcome them and respect the decision to join Nato.
Stoltenberg then emphasised that the plan would be to pre-position more equipment further forward closers to Nato's borders. He said:
We know that actually to move, people can go quite fast. But to move heavy equipment, battle tanks, ammunition, fuel, all kinds of supplies, that takes time. So if we have that pre-positioned in place, then you can move in very quickly with the personnel.
He said that "what we will make sure with our presence is that we are able to defend all allies, including of course, Finland, and Sweden".
Nato's new strategic concept, Jens Stoltenberg has explained in Madrid, also looks at the environmental impact of the defence alliance. He said: "We cannot choose between having green militaries or strong militaries. They must be both. So we must maintain our operational effectiveness and readiness as we continue to adapt."
He described the climate crisis as "the defining challenge of our time" and said that "Nato is committed to playing our part in mitigating the impact on our security.".