Ukraine is talking about using Western weapons to target Russia's Black Sea fleet amid the ongoing war, according to the country's deputy defense minister.
Volodymyr Havrylov told The Times on Monday that attacking the fleet could help Ukraine take back Crimea, which Russia annexed in 2014.
"Russia will have to leave Crimea if they wish to exist as a country," the British newspaper quoted Havrylov as saying.
"We have a permanent threat from the Russian Black Sea fleet. Given the new technologies and capabilities we receive, we have to address this threat," he continued. "We are ready to target them all over the Black Sea if we have that capability."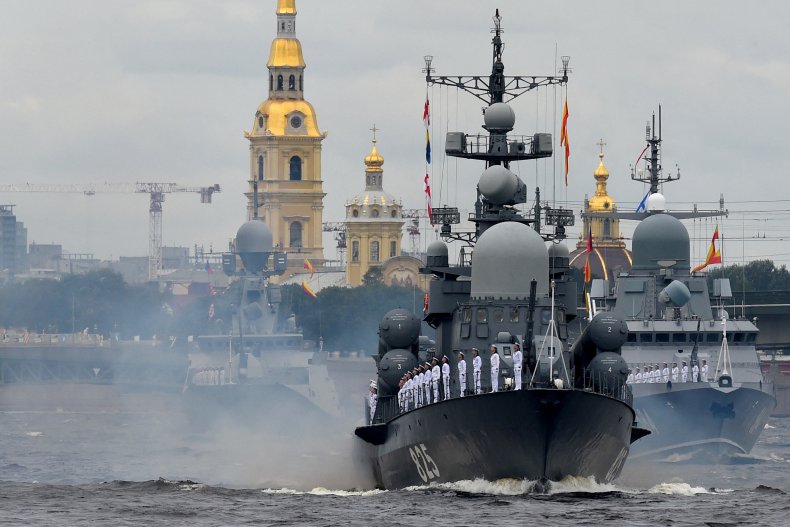 Ukraine is talking about using Western weapons to target Russia's Black Sea fleet amid the ongoing war, according to the country's deputy defense minister. Above, soldiers stand at attention as Russian Navy warships take part in the Navy Day parade in St. Petersburg, Russia, on July 25, 2021.
Olga Maltseva/AFP via Getty Images
U.S.-supplied weapons have reportedly helped Ukraine push back against Russia in recent days. Last week, Ukraine said that it destroyed two Russian ammunition depots in the southern city of Nova Kakhovka using American-made HIMARS multiple rocket launcher vehicles. A report published by The Moscow Times on Monday said that Russia is struggling to protect its tanks from weapons sent to Ukraine from the United States.
A senior U.S. Department of Defense official said during a background briefing at the Pentagon last week that American-supplied weapons to Ukraine are having a "significant impact on what's going on, on the front lines."
The Black Sea touches the borders of Russia, Ukraine, Turkey, Bulgaria, Georgia and Romania. The Crimean peninsula is in the Black Sea.
Havrylov is not the first Ukrainian official to suggest that Russia's fleet could be targeted.
Anton Gerashchenko, adviser to the Ukrainian Ministry of Internal Affairs, tweeted in May that the U.S. "is preparing a plan to destroy the Black Sea Fleet."
"The effective work of the Ukrainians on warships convinced (the USA) to prepare a plan to unblock the ports," he tweeted. "Deliveries of powerful anti-ship weapons (Harpoon and Naval Strike Missile with a range of 250-300 km) are being discussed."
He posted the message after Reuters reported on May 19 that the White House was working to provide Ukraine with anti-ship missiles in the hands of Ukrainian troops to help defeat Russia's naval blockade.
Havrylov told The Times that Ukrainian officials were in talks to determine whether they could use U.S.-supplied weapons to attack Russian forces in Crimea.
"Sooner or later we will have enough resources to target Russia in the Black Sea and Crimea," he said, according to The Times. "Crimea is Ukrainian territory, that's why any target there is legitimate for us."
Crimea and the Black Sea have been the subject of discussion or reported conflict several times in recent months.
A pair of bridges, together called the Kerch Strait bridge, runs between mainland Russia and Crimea. General Philip Breedlove, who served as NATO's supreme allied commander in Europe, told The Times this month that the Kerch Strait bridge is a "legitimate target."
Last month, Ukraine announced that it recaptured Snake Island, which is in the Black Sea. Moscow said at the time that it had withdrawn its forces from the island as a "gesture of goodwill," but Ukraine stressed that it forced out Russian troops.
"Unable to withstand the fire of Ukraine's artillery, missile and air strikes, Russian army left Snake Island," said Valery Zaluzhny, commander-in-chief of the armed forces of Ukraine.
Newsweek reached out to the defense ministries of Russia and Ukraine for comment.