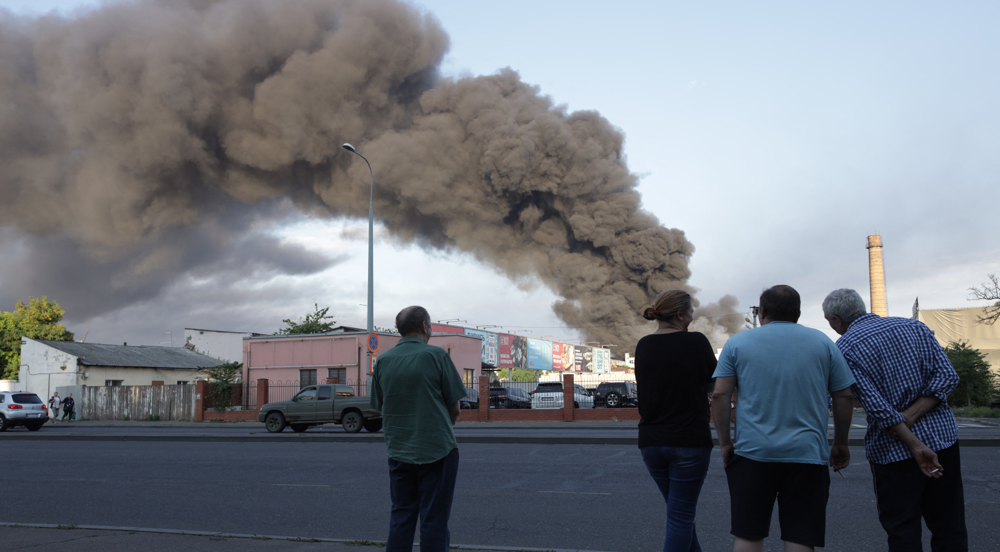 Ukraine has said that Russian missiles struck the key Black Sea port of Odessa, an incident that Moscow said had nothing do to with and is looking into it very closely.
Ukraine's military said two Russian cruise missiles hit the port city in the early hours of Saturday morning.
"The enemy attacked the Odessa sea port with Kalibr cruise missiles," Sergiy Bratchuk, a representative of the Odessa region said in a statement on social media. "Two of the missiles were shot down by air defenses. Two hit port infrastructure."
Ukraine's Foreign Ministry spokesman Oleg Nikolenko described the missile attack as a "spit in the face" of a deal signed by the warring neighbors a day earlier to resume grain exports blocked by the conflict.
"The Russian missile (strike) is (Russian President) Vladimir Putin's spit in the face of UN Secretary-General Antonio Guterres and Turkish President Recep (Tayyip) Erdogan, who made enormous efforts to reach an agreement," said Nikolenko.
He accused Russia of being responsible "for deepening the global food crisis" if the agreement were jeopardized by the assault.
'Moscow examining issue very closely'
However, Turkey's defense minister said later on Saturday that Russian officials had told Ankara that Moscow had "nothing to do" with the attack on Odessa port.
"In our contact with Russia, the Russians told us that they had absolutely nothing to do with this attack, and that they were examining the issue very closely and in detail," Hulusai Akar said in a statement.
"The fact that such an incident took place right after the agreement we made yesterday really worried us," he added.
Moscow and Kiev signed separate but identical agreements with the United Nations and Turkey on reopening Black Sea shipment routes. Under the terms of the deal, Moscow agreed not to target ports while grain shipments are in transit.
US ambassador accuses Russia of weaponizing food
US Ambassador to Kiev Bridget Brink also reacted to the missile strike, describing it as "outrageous."
"Russia strikes the port city of Odessa less than 24 hours after signing an agreement to allow shipments of agricultural exports," she said on Twitter. She accused Russia of weaponizing food, saying, "Russia must be held to account."
The war in Ukraine began on February 24, after President Putin ordered a military campaign "to demilitarize" and "de-Nazify" Ukraine and to "liberate" Donbas, composed of two breakaway regions of Donetsk and Luhansk.
Since the onset of the operation, the United States and its European allies have supplied billions of dollars worth of weaponry to Ukraine and imposed waves of unprecedented sanctions on Moscow, despite Russia's repeated warning that such a Western flood of weapons will only prolong the war.
On Friday, Washington signed off on another $270 million in military aid to Kiev, including four more high mobility artillery rocket systems (HIMARS).
The latest aid will bring to 20 the number of the HIMARS, which can precisely strike targets within 80 kilometers.
Earlier this week, Russian Defense Minister Sergei Shoigu ordered generals to prioritize destroying Ukraine's long-range missile and artillery weapons, according to the ministry.
White House spokesman John Kirby said on Friday that Russia has "launched deadly strikes across the country, striking malls, apartment buildings, killing innocent Ukrainian civilians."
Washington most recently shipped rocket launchers to Ukraine as part of a $450 million military assistance package announced last month.
The US has spent $8 billion on military aid to Kiev since the start of the war in Ukraine.