Mary Trump, a psychologist and Donald Trump's niece, speculated that Jared Kushner was the confidential source that tipped off the FBI to what confidential documents were being held at Mar-a-Lago and where they were located.
Newsweek first reported on Wednesday that a confidential source had provided the information to federal authorities, citing two senior government officials. The raid on Monday, which was approved by Attorney General Merrick Garland, aimed to seize top secret and other classified documents that the ex-president was holding at his Florida resort residence.
In an interview with The Dean Obeidallah Show on Friday, Mary Trump was asked who the informer could be. She said it was "tough to choose," but pointed to Kushner, the husband of Trump's eldest daughter Ivanka Trump. Kushner and Ivanka served as senior White House advisers in Trump's administration.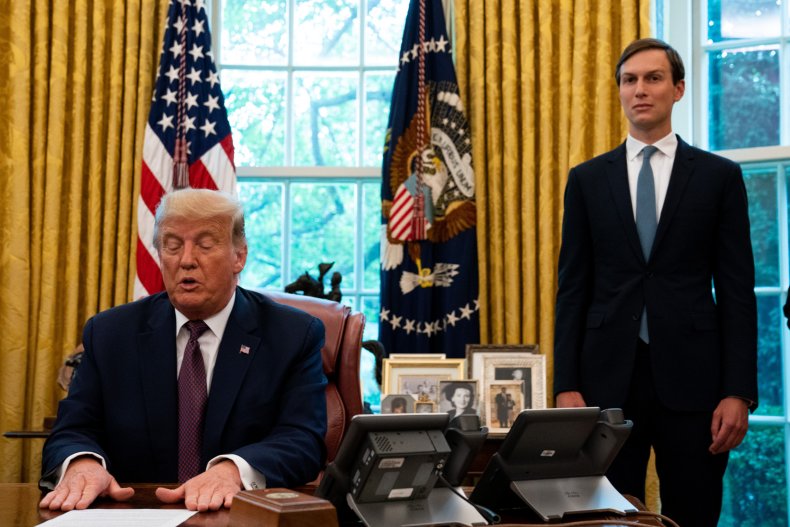 Mary Trump, the niece of former President Donald Trump, speculated Friday that Jared Kushner tipped off the FBI to where agents could locate classified documents at Mar-a-Lago during a Monday raid. Above, Kushner looks on as Trump speaks in the Oval Office in Washington, D.C.
Anna Moneymaker-Pool/Getty Images
"I think we need to look very hard at why Jared got $2 billion. We need to look very hard at why he has been so quiet for so many months now. And we need to think about who, if it, who could also be implicated in this that would need as big a play as turning Donald in, in order to get out of trouble, or at least to mitigate the trouble they're in," Mary Trump said.
"It sounds like somebody in Jared's position. I'm not saying it's Jared, but it could be," she added. Mary Trump appeared to be referring to the $2 billion investment Kushner secured from Saudi Arabia's Public Investment Fund about six months after his father-in-law's White House tenure came to an end.
Notably, Donald Trump's former attorney Michael Cohen also said that the informer could have been one of the former president's children or his son-in-law.
"It's definitely a member of [Trump's] inner circle," Cohen told Insider on Thursday. "I would not be surprised to find out it is Jared or one of his children." Others have speculated that Trump's former chief of staff Mark Meadows may have provided the information to the FBI.
News first broke in early February that the former president had improperly taken classified documents to Mar-a-Lago, with the National Archives and Records Administration (NARA) confirming that it had been searching for 15 boxes of records. The ex-president did not deny the story at the time, saying that it was a mix-up as his staff hastily moved him out of the White House.
After the boxes were returned to the NARA, the collection led to additional concern that the former president still had additional classified materials. Federal investigators began interviewing Trump staffers to determine what had been taken from the White House. The interviews, and a broader investigation overseen by a U.S. attorney, resulted in a grand jury subpoena served against Trump in late May to produce specific documents.
When the documents were not turned over, the FBI and the Justice Department chose to take the unprecedented step of carrying out a search warrant against a former president. A federal judge, as is required due process, approved the warrant—believing that the FBI had demonstrated probable cause.
Newsweek reached out to Trump's press office for comment.
The former president has argued that the raid was part of a "scam" and a "witch hunt."
"Like all of the other Hoaxes and Scams that they've used to try and silence the voice of a vast majority of the American People, I have TRUTH on my side, and when you have TRUTH, you will ultimately be victorious!" he wrote Saturday on Truth Social.
The ex-president has also said that he declassified the documents and that he was cooperating with authorities to turn them over.
"Number one, it was all declassified. Number two, they didn't need to 'seize' anything. They could have had it anytime they wanted without playing politics and breaking into Mar-a-Lago," he wrote in a Friday post. His office said in a Friday statement that there was a "standing order" to declassify documents Trump wanted to take to Mar-a-Lago when he was serving as president.
Some legal experts have described the argument that Trump "declassified" the documents as "dumb" and "idiotic." Another legal expert said that the laws cited by the FBI in the warrant would not require the documents to be classified in order for them being improperly kept at Mar-a-Lago to be illegal.
Presidents do have wide latitude to declassify information, although that power ends when their term concludes. But there are also specific federal regulations outlining a process for declassifying information. Despite Trump's claims, it's not clear if any such process was followed.
Newsweek reached out to Trump's press office for comment.