From now till the new year, over half a million people a day will view the Christmas tree at New York's Rockefeller Center. The complex's decorations, lights and ice skating rink are a welcome escape. Even Jews can take pride in knowing that atop the towering spruce is a 900-pound Swarovski crystal designed by the Jewish architect Daniel Libeskind. Yet even here, there's no escaping the specter of antisemitism.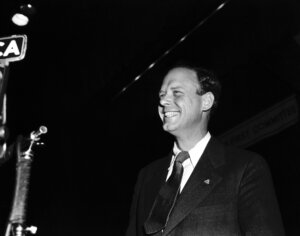 Charles Lindbergh speaks during an America First Committee rally at Madison Square Garden in 1941. Photo by Getty Images
Just a stone's throw from the tree, a bronze bust of Charles A. Lindbergh, created by the artist Paul Fjelde, presides over the grand art deco lobby of 45 Rockefeller Plaza, also known as the International Building. While most remembered for completing the first nonstop transatlantic flight in his 1927 solo trip from New York to Paris, Lindbergh was also a known antisemite. The aviator led the American First Committee campaign against U.S. involvement in World War II. His isolationist stance and trips to Hitler's Germany led some to accuse the aviator of being a Nazi sympathizer.
In 2020, the San Diego International Airport (formerly Lindbergh Field) removed an exact copy of the bronze bust. In recent years, public tributes to Lindbergh have been taken down or have been the subject of debate as the country has reexamined public monuments. Yet, the Lone Eagle, as he was nicknamed, has succeeded in flying under the radar in New York — evading the attention of the press, politicians and the city's vocal activists.
Of late, there has been much discussion of how to combat antisemitism and respond to hate speech by public personas. Should they be allowed to tweet? Must they apologize before playing professional basketball? Should a former president invite them to dinner? So, what should we do about the bust of an aviator who rubbed shoulders with Nazis? 
Not a casual antisemite
In September 1941, Lindbergh, speaking on behalf of the isolationist America First Committee, singled out the Roosevelt administration, the British and the Jews for leading the U.S. into war against Nazi Germany.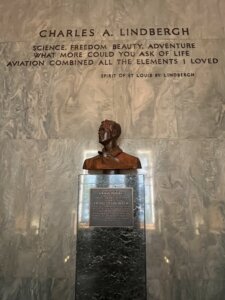 Paul Fjelde's bust of Charles Lindbergh presides over the grand Art Deco lobby of 45 Rockefeller Plaza. Photo by Andrew Silverstein
"Instead of agitating for war, Jews in this country should be opposing it in every way, for they will be the first to feel its consequences," he said. "Their greatest danger to this country lies in their large ownership and influence in our motion pictures, our press, our radio and our government."
This wasn't the casual antisemitism of an errant tweet. Ken Burns' recent documentary "The U.S. and the Holocaust" shows that Lindbergh, as the leading voice against the war, hindered Roosevelt's ability to respond to Nazi Germany and accept greater numbers of Jewish refugees.
Yet, Lindbergh is honored on one of the most iconic and busiest stretches of Fifth Avenue. His bust sits on a marbled mezzanine across from St. Patrick's Cathedral, staring out over the globe held atop the Atlas statue outside the building's doors. One would be hard-pressed to find a more privileged spot.
It's hard to reconcile a society that benches Kyrie Irving for a tweet, while putting Lindbergh on a pedestal on Fifth Avenue. 
Private property in a very public place
In the wake of 2017's white supremacist march in Charlottesville, Virginia, then-New York Mayor Bill de Blasio established a commission to make recommendations on the city's public art, monuments and markers that were at odds with current societal values.
The commission did not consider the Lindbergh bust because Rockefeller Center is private property, but a plaque on Broadway's canyon of heroes that commemorates Lindbergh's 1927 ticker tape parade is owned by the city. The commission's report did not directly discuss Lindbergh. Instead, it treated the 206 plaques, which includes one of French World War I hero-turned-Nazi collaborator Marshal Philippe Pétain, as one entity. The commission did not recommend removal, arguing that the plaques mark the historical parades and are not themselves celebratory. They suggested adding signage or other historical information to contextualize the markers.
The Lindbergh bust may be on private property, but it is in a very public area. The lobby of 45 Rockefeller Plaza is easily accessed and connected to the complex's shops and restaurants. Harriet Senie, a retired professor of art history at CUNY's Graduate Center and City College who sat on the mayoral commission, believes Rockefeller Center has a responsibility to address the Lindbergh monument.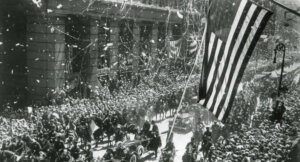 Charles Lindbergh rides in a tickertape parade after his 1927 Atlantic crossing. Photo by Getty Images
San Diego International Airport transferred its bust and another Lindbergh sculpture to the local air and space museum as a means of recontextualization. Senie, who is Jewish and whose grandmother and uncle were killed in Auschwitz, does not believe the bust in New York should be removed. Rather, she recommends adding a sign with text or a link to explain the aviator's antisemitic and racist past.
 "It's tricky," she said, arguing that we can both acknowledge the significant contributions of Lindbergh and condemn his white supremacist activities. "I don't think we should whitewash history. But I don't think we should eradicate accomplishments out of some moral imperative."
In a statement, Scott Richman, the Anti-Defamation League's regional director of New York and New Jersey, agreed: "We believe that any memorial or commemoration of Lindbergh's achievements should be contextualized with the darker aspects of his record, including his support of Nazi Germany, American isolationism and dangerous antisemitic beliefs."
Rockefeller Center is owned and operated by Tishman Speyer, the real estate developers, which is owned and was founded by two prominent Jewish families. The company did not respond to emailed questions.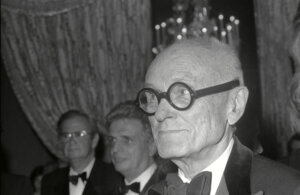 Architect Philip Johnson supported the Nazi party during the 1930s. Photo by Getty Images
In 2020, the nearby the Museum of Modern Art was confronted with a similar issue. Artists, designers and activists petitioned the museum to remove the name of the influential architect Philip Johnson from a museum wall. Johnson, a former museum department head, supported the Nazi party during the 1930s. MoMA decided to temporarily cover Johnson's name with artwork from the organization Black Reconstruction Collective.
Tishman Speyer, however, doesn't have the option of a quick fix. Rockefeller Center was given both city and national landmark status in the 1980s. The International Building lobby and Lindbergh bust are protected. Any changes would have to be approved by the New York City Landmark Preservation Commission in a process that includes community input.
It was 1975, not 1935
According to Senie, to make the bust a "teachable monument," an added sign must explain when and why the bust was installed. This would shed light on the motivations and values of the people who commissioned the monument, in this case, the Rockefeller family.
Indeed, the origin story of the bust may hold the biggest lesson. The Lindbergh monument isn't an example of celebrating a hero who only later turned out to be a racist. Nor is it a case of society's values changing over time. Its provenance paints a more complex picture of American society and antisemitism.
At first glance, it's not surprising that a building from 1935 would have a tribute to Lucky Lindy. At the time, air travel was one of mankind's greatest accomplishments. Aviation motifs are found across Rockefeller Center, including a model plane commemorating the 1930 flight of French pilots from Paris to New York in La Maison Francaise. Just a few blocks away, the lobby of the Chrysler Building, finished in 1930, has a painting of Lindbergh's plane, The Spirit of St. Louis.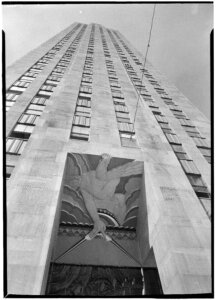 Entrance to the RCA Building at Rockefeller Plaza, circa 1933. Photo by Getty Images
Most importantly, Rockefeller Center was completed before Lindbergh would make his several trips to Nazi Germany; before he accepted a medal from Hermann Goering on behalf of the Fuhrer; and before he and his wife, the writer Anne Morrow Lindbergh, planned to move to a Berlin suburb in the run-up to Kristallnacht. Lindbergh was at the peak of his fame: He was already a celebrity for his transcontinental flight when the 1935 trial of the man who kidnapped and murdered his infant son gripped the nation.
But the bust is from 1975, not 1935. It was unveiled after Lindbergh's death, when the aviator's politics were well known. In fact, if the bust had been placed in 1935, it would have most likely been removed. Lindbergh's anti-interventionist campaign and plea for the "white race" to band together and not "commit racial suicide by internal conflict" led to his forced resignation from the U.S. Army Air Corps and a loss of lucrative corporate ties; Little Town, Minnesota, his hometown, took his name off a water tower.
Lindbergh was canceled but then given a second act in the 1950s. He didn't have to apologize, recant his antisemitic statements or engage in dialogue with Jewish leaders. Rather, the United States was focused on a new enemy, the Soviet Union, and was willing to overlook past flirtations with fascism. It's not that Cold War America was a forgiving place. Sen. Joseph McCarthy was busy dredging up Americans' decades-old communist connections, and Jews were a prime target.
In 1954, President Dwight Eisenhower restored Lindbergh's commission and promoted him to brigadier general in the U.S. Air Force and his book, The Spirit of St. Louis, which recounted his famous flight, won a Pulitzer. Lindbergh again became an all-American hero and for the next two decades used his fame to promote conservationist causes. A. Scott Berg's 1998 Pulitzer prize-winning biography of the pilot examined his published writings, speeches, letters and diaries. Berg shows that even while Lindbergh was invited by Presidents John F. Kennedy, Lyndon Johnson and Richard Nixon to the White House, he maintained his beliefs in eugenics.
America First vs. Make America Great Again
Lindbergh had his defenders. In the 1980s, his widow argued that he could not have been antisemitic because he was an early supporter of forming a Jewish state. Gore Vidal, a family friend, argued that Lindbergh wasn't pro-Nazi but simply, "a classic Midwestern isolationist." For the most part, Lindbergh's writings about limiting the "Jewish influence" or guarding America's "inheritance of European blood" against "dilution by foreign races" weren't minimized; they were just plainly forgotten. When the pilot died in 1974, the major newspapers did not mention his America First activities.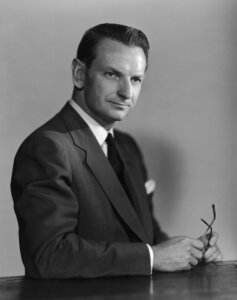 Laurence Rockefeller, brother of then-sitting Vice President Nelson Rockefeller, unveiled the bust of Lindbergh in 1975. Photo by Getty Images
The following year, Laurence Rockefeller, the brother of the sitting vice president Nelson Rockefeller, unveiled the bust of Lindbergh in the family's complex, calling the aviator a longtime friend. The bust caused no controversy then or when Rockefeller Center and its interior lobbies were given New York City Landmark status in 1985, ensuring that the tribute to Lindbergh would remain a permanent fixture.
Only in recent years has there been more focus on Lindbergh's darker past. In 2004, Philip Roth's novel "The Plot Against America" reimagined the United States if Lindbergh had become president in 1940 and signed a peace pact with Hitler. The year before, it was revealed that the aviator secretly fathered seven children with two Bavarian sisters and his German translator.
Then in 2016, Donald J. Trump, just a few blocks north of Rockefeller Center, launched his own "America First" campaign. Many commentators picked up on the similarities of the two celebrities-turned-right-wing political forces. So much so, that for many, Trump almost immediately calls Lindbergh to mind. The Lindbergh bust looks set to glide down the art deco lobby's escalator in Trump-like fashion.
In 2020, Roth's book was made into a HBO miniseries, but Ken Burns' recent docu-series is the most damning depiction of the aviator. Burns uses the all-American hero as representative of the white supremacy and antisemitism lying beneath the surface of the U.S., rearing its head every so often. The documentary ends with a montage of recent far right extremists connecting Lindbergh with Charlottesville and Jan. 6. Given the increase in antisemitic attacks and conspiracy theories, this issue isn't going away.
Ultimately, Tishman Speyer will have to decide what to do with the Lindbergh bust in the lobby. Even though there has been no public outcry, it's not something they can easily ignore. The developers' offices are located in the same building as the monument.
The post Why is there still a bust of this antisemite in Rockefeller Center? appeared first on The Forward.