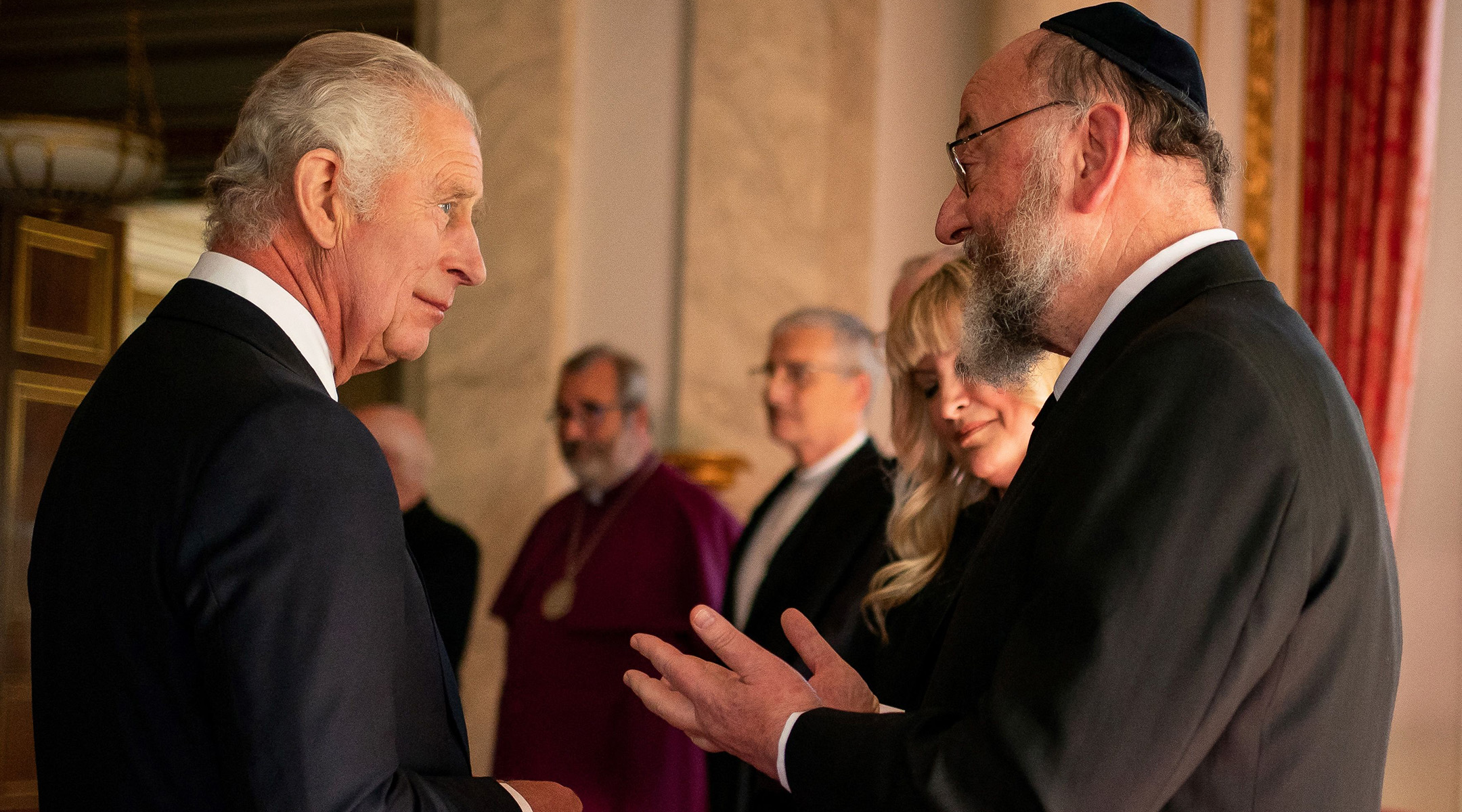 (JTA) — Rabbi Ephraim Mirvis, chief rabbi of the United Hebrew Congregations of the British Commonwealth — commonly referred to as the United Kingdom's chief rabbi — can now add a "Sir" to his title. 
Mirvis will be named a "knight commander of the order of the British Empire," according to King Charles' New Year Honours list. Since 1890, the U.K. has announced new knighthoods and other chivalric honors only twice a year, on New Year's Day and on the birthday of the ruling monarch, which in the past was April 21 for Queen Elizabeth II but going forward will be Nov. 14 for King Charles III. 
"I am enormously honoured and deeply humbled by this award. It will be particularly moving for me to receive this award from His Majesty The King, in his first year as our monarch," Mirvis said, according to the Jewish Chronicle.
Though Mirvis' most recent predecessors, Jonathan Sacks and Immanuel Jakobovits, had also received knighthoods during their terms as chief rabbi, the title has not always been a given. 
King Charles' list noted Mirvis' work in the field of interfaith dialogue and his advocacy for Uyghur Muslims suffering under oppressive policies in China. The list also noted Mirvis' efforts to make the Orthodox world more inclusive of women and LGBTQ Jews. 
"He has been an advocate for greater inclusivity in Orthodox Jewish life, appointing Britain's first female halachic adviser and establishing greater opportunities for female leadership and scholarship," the list noted. "In the field of education, the Chief Rabbi has championed the cause of faith schools and Jewish education and issued a guide on the well-being of LGBT+ pupils in Orthodox Jewish schools — the first of its kind anywhere in the world."
Maurice Ostro, vice president of The Council of Christians and Jews, a British volunteer group, said the honor "underlines how the establishment has started to recognise the importance of interfaith engagement as well as the vital contributions of our faith communities and the important role they play in making our country a truly great Britain."
Alongside Mirvis, several other British Jews received honors on the list, including Vernon Bogdanor, a noted political scientist; British Ambassador to Ukraine Melinda Simmons; television presenter Rachel Riley; Julian Lewis, a member of parliament since 1997; and Marie van der Zyl, president of the Board of Deputies of British Jews.
"This is a true honour and a great surprise. It is a tribute to all the work we do at the Board of Deputies to represent and advocate for our Jewish community," van der Zyl said. according to the Jewish Chronicle.
This article originally appeared on JTA.org.
The post British Chief Rabbi Ephraim Mirvis is knighted appeared first on The Forward.