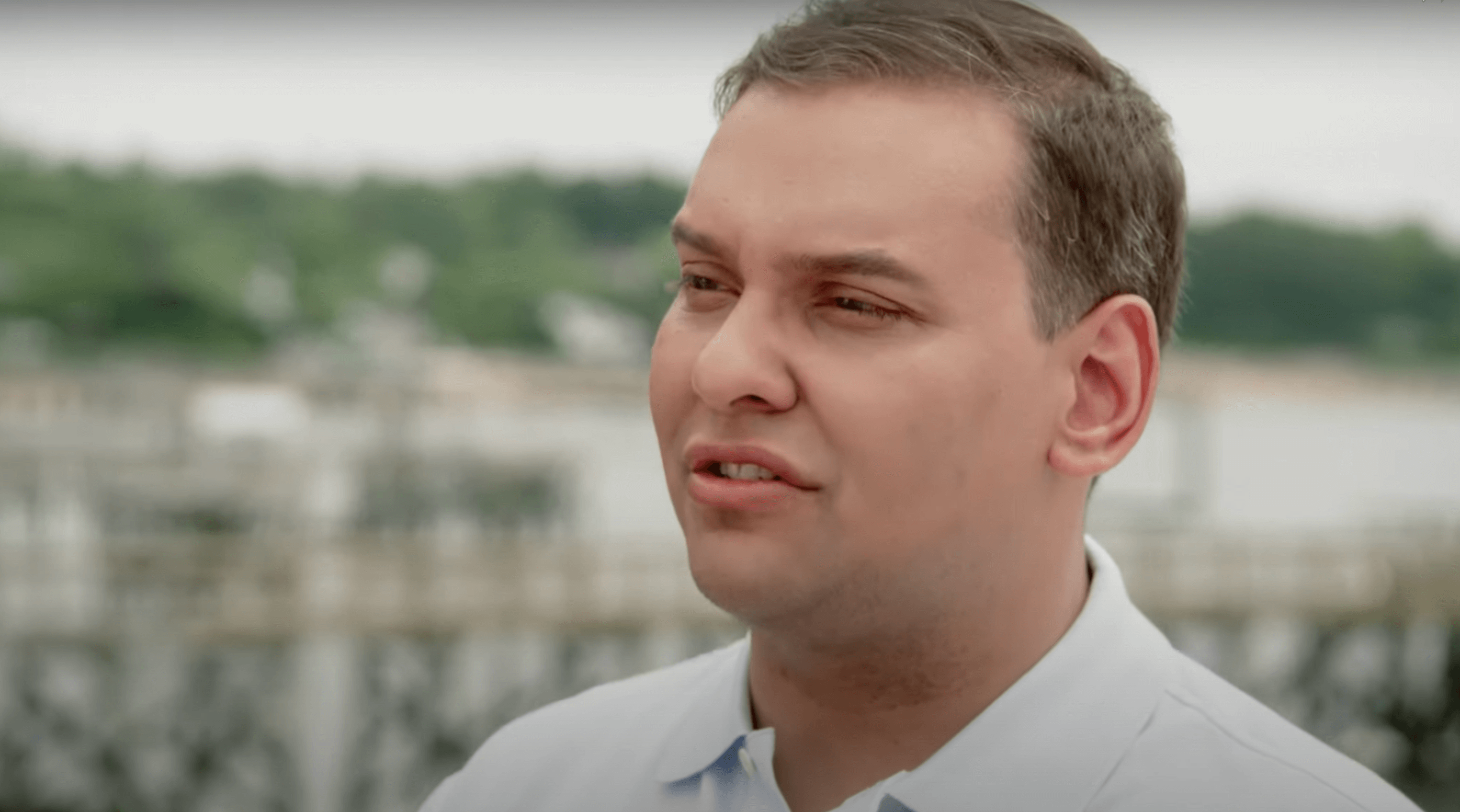 As George Santos prepares to take the oath of office Tuesday afternoon, still more is emerging about the New York congressman-elect, who has been caught in a web of lies about his background, including his claims that he is Jewish.
In a newly surfaced video from an interview last May, Santos made an unsubstantiated claim about 93-year-old Selma Schumer's feelings about her son, Senate Majority Leader Chuck Schumer. Other interviews show that Santos described himself specifically as a "Latino Jew" and tried to leverage his status as both a racial and religious minority. 
His comments about Schumer's mother are from a podcast interview with radio host Charles Moscowitz on May 13, 2022, in which Santos claims to have spoken personally to her.
"His own mother doesn't vote for him, probably," Santos said, commenting on Schumer's 2017 warning to Donald Trump after the then-president disparaged U.S. intelligence agencies. "She lives in my district," Santos said about Selma Schumer, "and she had a mouthful when I knocked on her door asking her for her vote. She said, 'I don't know what's happened to my son. He used to be a good man.'" 
When the host joked it would make the cut for an effective campaign commercial, Santos said he wouldn't do it to the elder Schumer, whom he called a "darling" and a "nice lady." But he added, "Chuck doesn't deserve the mother he has."
Schumer's staff told the Forward that the senator would not respond to Santos' reported comments about his mother.
Though few doubt that Santos will become a member of the U.S. House Tuesday, he takes office under a cloud of uncertainty about his future. He is under local, federal and international investigations over past activities and for fabricating key details of his resume. The Forward has uncovered Santos' about his Jewish heritage during his two bids for Congress. 
Santos ignored questions from reporters staked outside his office on his first day on Capitol Hill. The reports and the extent of the falsehoods have been met with disappointment and anger among his constituents in the Nassau County district. "The bar seems to be set so low the last few years," Shelly Shulman, a resident in the Long Island village of Mineola, told MSNBC. "It's really a sad thing for our society that today everyone knows how much he lied and yet he's going probably be sworn in. It's just unacceptable." 
News outlets continue to unearth other questionable actions Santos has taken. The New York Daily News on Monday reported that Santos loaned $25,000 from his political action committee, Gads PAC, in 2021 to the campaign of former Rep. Lee Zeldin, who was mounting a bid for governor of New York.Santos later reimbursed himself — not his PAC — for the loan once the Gads PAC, which was named after his initials, raised additional funds, a move veteran campaign finance expert Robert Maguire said was rare.
A 'Latino Jew'
Santos has admitted he forged much of his professional biography and falsely claimed to have Jewish grandparents who fled anti-Jewish persecution in Ukraine and then Belgium during World War II. The Forward first reported last month that Santos' maternal grandparents were both born in Brazil before the Nazis came to power and his late mother, Fatima Alzira Caruso Horta Devolder, regularly shared  Catholic imagery on social media. 
Santos said in recent interviews that he had joked about being "Jew-ish," and that he identifies himself as "clearly Catholic." But a document the Santos campaign submitted to multiple Jewish and pro-Israel organizations earlier in the summer and uncovered by the Forward showed that the candidate boasted about being a "proud American Jew." 
And it appears that Santos went even further in promoting what he claimed was his Jewish heritage. In a series of radio interviews during his campaign, Santos described himself as a "Latino Jew" whom the Democrats are seeking to stop because it doesn't fit their narrative. 
"All they run is on virtual signal," Santos said about the Democratic Party in an interview on the  Ari Hoffman Show last June. "If you're Latino, you must be a Democrat. If you're gay, you must be a Democrat. And God forbid, if you're Jewish and you're Republican, 'Oh, that is really bad, sir.'"
"I break all those molds — in that order," he added. 
Appearing on the same radio show a month later, Santos said the fact he's a Latino Jew makes the Democrats "shake in their pants — because the reality is, I got it all baby. I come from all angles." 
In an interview with podcaster Jeremy Ryan Slate in June, Santos somewhat amended his description. "I'm a good old Catholic, right, but with a Jewish mother," he said. "I am half Jewish, half Catholic." 
In a virtual campaign appearance in August, Santos suggested his Jewish ancestry could land him a slot on the prestigious House Foreign Affairs Committee. "I am the grandchild of Holocaust survivors, and the son of a 911 survivor," he said during a candidate forum hosted by the Bay Terrace Community Alliance. "I strongly believe that foreign affairs is something that I would have plenty of passion and input that I'd love to leave my mark on."  
The post Newly surfaced interview reveals George Santos made unsubstantiated claim about Schumer family appeared first on The Forward.