(New York Jewish Week) — In the Yiddish classes Mikhl Yashinsky teaches for the YIVO Institute for Jewish Research and the Workers Circle, he begins by asking students to explain why they decided to learn the language.
Often, a student will describe attending a performance of "Fiddler on the Roof in Yiddish," the smash hit from the National Yiddish Theatre Folksbiene.
This is literally music to the ears of Yashinsky, who not only teaches conversational Yiddish, translates Yiddish literature and writes Yiddish plays and videos, but who also played a beggar and innkeeper in the latest run of "Fiddler" in Yiddish, which closed on Jan. 1. 
"Many thousands of people have seen Yiddish 'Fiddler' by now and it's had a real impact on them and how they see the language," he told the New York Jewish Week. "It makes me happy that one thing feeds into another."
The 32-year-old Chelsea resident is in some ways the future of Yiddish, at least of the secular, artistic and academic variety that is spoken and studied outside of the haredi Orthodox community, where it is often the first language. While some Yiddishists bristle at the notion that the language of Ashkenazi Eastern Europe is undergoing a "renaissance," figures like Yashinsky are making sure the language continues to flourish in communities beyond the yeshiva. 
"Mikhl has played a very big role in my Yiddish journey," said Judith Liskin-Gasparro, a retired linguistics professor from the University of Iowa. Liskin-Gasparro had four grandparents who were native Yiddish speakers but who never spoke the language in front of her. She estimates that over the course of her career she's watched 1,000 people teach a language class. After studying with Yashinsky remotely from Iowa City for five semesters, Liskin-Gasparro said: "I have rarely seen anybody as good as he is." His YIVO course has been so popular that YIVO had to create a second section. 
Liskin-Gasparro now describes herself as obsessed with the language. In November, she made the trek to New York to see Yashinsky perform in "Fiddler." During her visit she joined about 15 people from Yashinsky's YIVO class to meet her teacher in person.
Yashinsky, who grew up outside of Detroit, credits his late maternal grandmother, Elizabeth Elkin Weiss, with putting him on the path to becoming a Yiddishist. Weiss and her husband Rube were veterans of Yiddish theater, performing on stage and the radio. His grandmother also performed in English-language radio dramas, and her ability to do accents and characters earned her the nickname "The Woman of 1,000 Voices." A radio ad in which Weiss imitated the Hungarian Jewish actress Zsa Zsa Gabor convinced customers of an Italian restaurant in the Detroit area that Zsa Zsa herself had done the commercial.
Talent ran in the family, sometimes in unexpected ways: Yashinsky's uncle, David Weiss, was one-half of Was (Not Was), a major funk-rock band in the 1980s and '90s. David's partner, Don Was, is celebrating his 30th year as a record producer for The Rolling Stones.
Yashinsky studied modern European history and literature at Harvard, attended the Vilna Yiddish Language Institute and in 2015-16 worked as a fellow at the Yiddish Book Center in Amherst, Mass. In 2018, Yashinsky performed in the held-over runs of Yiddish "Fiddler "at the Museum of Jewish Heritage in Lower Manhattan, then left New York for a steady gig teaching Yiddish at the University of Michigan in Ann Arbor. He rejoined the musical when it was staged in 2019 at Stage 43, the largest off-Broadway theater in the city.
Joel Grey, the director of Yiddish "Fiddler," wrote in an email: "Mikhl is one of the most resourceful and delightful actors I've ever had the pleasure to work with. He has more ideas for a moment than most actors do in a lifetime."
Jackie Hoffman, the comedian and Broadway veteran who played Yenta the matchmaker in earlier runs of Yiddish "Fiddler," said Yashinsky "is a truly Yiddish soul. He's like someone who could've crept out of the 19th century. It's like Yiddish is in his blood."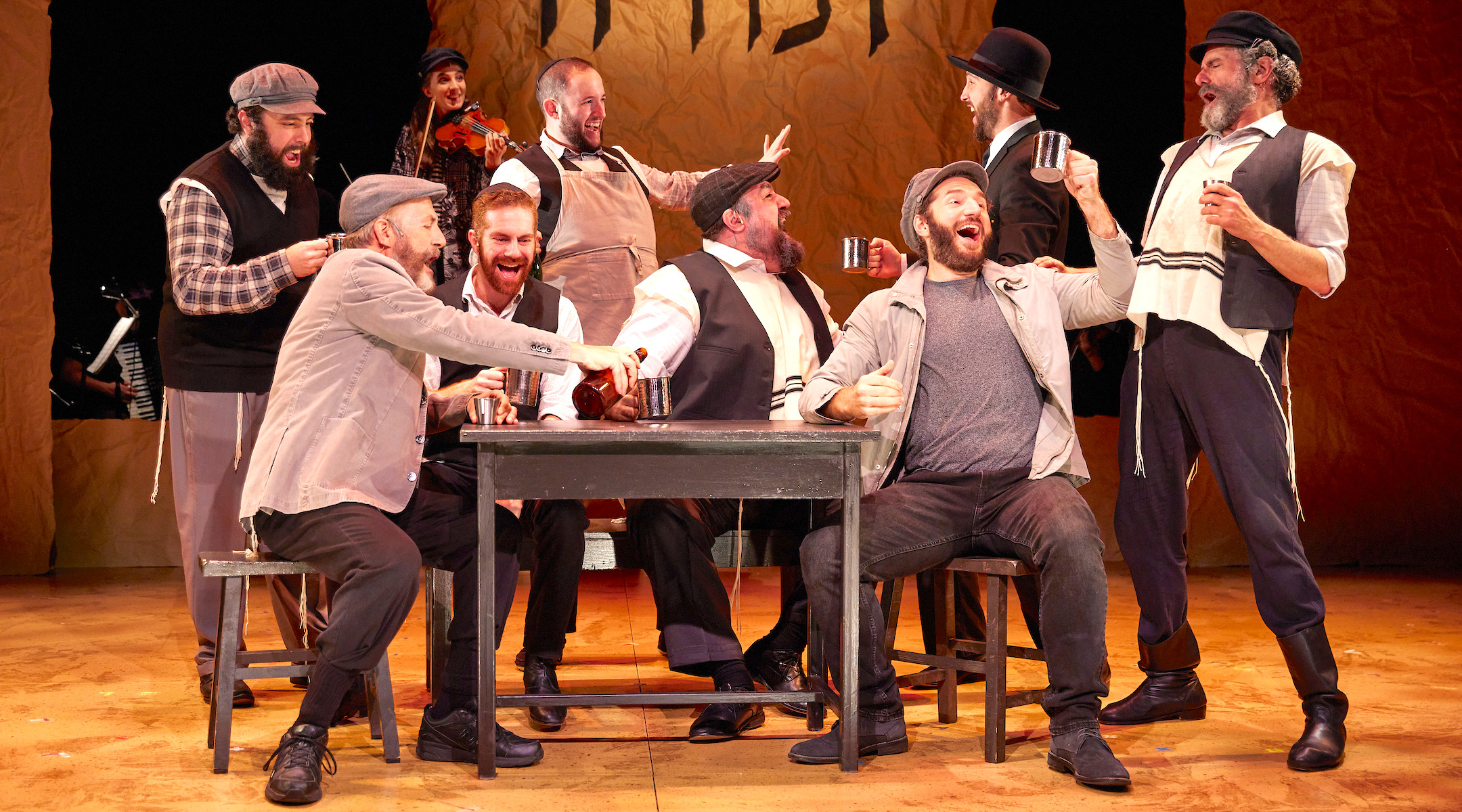 Mikhl Yashinsky, center in gray apron, played Mordkhe the Innkeeper in "Fiddler on the Roof in Yiddish," the smash hit from the National Yiddish Theatre Folksbiene. (Jeremy Daniel)
Image by
Steven Skybell, who played Tevye in in the latest Yiddish "Fiddler," attended Yashinsky's classes for a few semesters, which enabled him to converse with Yashinsky in the mamaloshn (mother tongue) backstage. 
Yashinsky's mother in Michigan, who did not grow up speaking Yiddish, has attended all five semesters via Zoom. Debra Yashinsky, who said she can't begin to count the number of times she's seen Yiddish "Fiddler," used her maiden name in the Zoom interface for the first two semesters.
"Mikhl once asked me, 'Mom, are you taking the class to learn Yiddish or do you just enjoy seeing me teach?'" she recalled. "I didn't know the right answer. The truth is I love seeing his punim [face] for an hour and a half and kvelling [being proud] while I watch him teach."
In addition to teaching and acting, translation has been a big part of Yashinsky's devotion to the language (and need to earn a living).


He has a deadline looming at the end of January for his translation of the memoirs of Ester-Rokhl Kaminska, the Polish-Jewish actress considered the "mother of Yiddish theater." He's been working on the project for a few years and could often be found backstage at "Fiddler" translating a couple of sentences at a time between scenes.
Yashinsky has also been translating short stories by the Nobelist Isaac Bashevis Singer for a forthcoming anthology of the author's early works. He describes them as "little gems" Singer wrote when he was a young writer that have never been translated into English. Yashinsky said he has translated three or four of the short stories so far.
Yashinsky is also a playwright whose Yiddish play, "Vos Flist Durkhn Oder" ("Blessing of the New Moon"), was performed at the Lower East Side Play Festival last summer. One of six plays chosen from more than 100 submissions, it was the only non-English play in the festival. The one-act play, set in a Lower East Side yeshiva in 1912, deals with the tradition of pranks that take place during the month in which Purim falls. 
His full-length play "Di Psure Loyt Chaim" ("The Gospel According to Chaim") will get a public reading this winter at the New Yiddish Rep in Manhattan. The play is based on the true story of Henry Einspruch, a Baltimore Jew who in the 1940s found Jesus and translated the New Testament into Yiddish for the purpose of converting his fellow Jews. Yashinsky said no Yiddish publisher would help Einspruch in his quest.
"I just thought that this was a very curious bit of history," said the playwright. "It was really insidious in some ways. He was trying to convert Holocaust survivors in some cases. He would preach outside synagogues on Shabbos mornings."


Yashinsky will be working on a Yiddish musical in 2023, thanks to a LABA Fellowship for Jewish artists. He plans to write the musical in collaboration with Mamaliga, a klezmer band based in Brooklyn and Boston. Yashinsky said he may write something about the underworld of Jewish life in Eastern Europe.
Another bright spot on the horizon: On Jan. 26 he'll make his Carnegie Hall début, singing in a concert titled "We Are Here: Songs from the Holocaust," which will feature Broadway stars Harvey Fierstein, Chita Rivera and Shoshana Bean. Yashinsky will perform "Zog nit keynmol" ("Never Say"), the anthem of the Vilna partisans.


And somehow Yashinsky will make time to produce more videos for the Workers Circle #YiddishAlive series on YouTube. Among the 11 videos he's done so far are a Yiddish rendition of Tom Lehrer's song "Hanukkah in Santa Monica" and a music video shot in Michigan to celebrate the strawberry harvest. That video featured "Trúskafke-vals" ("Strawberry Waltz"), a Yiddish song he wrote, as well as a strawberry cake baked by his mother.
He also produces humorous Yiddish music videos, including one based on Screamin' Jay Hawkins' demented, spooky classic, "I Put A Spell On You." In his version, Yashinsky performs in drag as Bobe Yakhne, a sorceress he played in Folksbiene's 2017 revival of the classic Yiddish operetta "The Sorceress." 
"This art form continues," he said of Yiddish theater. "It's a tradition that hasn't evaporated and it's nice to feel that I'm part of the continuity."
This article originally appeared on JTA.org.
The post On stage and in the classroom, Mikhl Yashinsky is stoking the flame of the Yiddish revival appeared first on The Forward.