When dramatist Anna Ziegler's The Wanderers played our nation's capital, The Washington Post said it was about "the human tendency to be chronically dissatisfied" and whether or not we can understand what it means to be truly happy.
Ziegler agrees. "I think it is very much about that," she told me, speaking over the phone from her Times Square rehearsal studio. "On the first day of rehearsal, our director, Barry Edelstein, gave a beautiful speech to everyone in the room and talked about how this is a play about characters all of whom have sort of a pebble in their shoe. There's something that doesn't feel quite right. They're all looking over their shoulders to see if there's some better life out there or some other life that might be more satisfying.
"In some ways I think probably all of my plays are about this theme, to some degree," she said. "This one probably most explicitly. I think it's a disease all the characters are struggling with."
The play, Ziegler said, is about "two very different or seemingly different Jewish couples in Williamsburg, Brooklyn. One is a Satmar Hasidic couple who have had an arranged marriage. The other are secular Jews, both novelists. The play is about the kind of unexpected similarities between these two couples and the challenges they both face to be satisfied with the lives that they are living."
The nonreligious husband is a Pulitzer Prize-winning novelist who receives an email from and begins a correspondence with a well-known actress he has admired (portrayed by Katie Holmes of Dawson's Creek fame). Partway through the play, a surprise revelation connects the seemingly unrelated tales.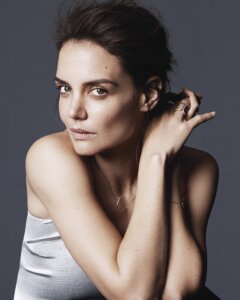 Katie Holmes, perhaps best known for Dawson's Creek, stars in Anna Ziegler's The Wanderers. Photo by Jan Welters
Ziegler, 43, who grew up Reform Jewish in Brooklyn, is a much-produced and much-honored playwright who once interned at the Forward under the supervision of English-language Forward founder and first editor, Seth Lipsky, who was good friends with her parents. "This was a long time ago," she said. "I have fond memories of my summer at the Forward."
Ziegler's play Photograph 51, about the British chemist Rosalind Franklin's major role in the discovery of DNA structure, starred Nicole Kidman in London and won the 2016 London WhatsOnStage Award for best new play. The Wanderers premiered at the Old Globe theater in San Diego, where it won the San Diego Critics Circle Award for best new play in 2018.
Her Reform Jewish childhood in Brooklyn included a bat mitzvah. Now she considers herself  "essentially a High Holy Day Jew. But I think of myself as Jewish and I think of it as a big part of my identity and have come to accept that I have enough plays that touch on the Jewish experience that I am sort of thought of as a Jewish writer."
And, she agrees, The Wanderers is a very Jewish play.
"I was writing two different plays," she said. "One about an arranged marriage in the Hasidic community, and another about a marriage between two novelists. In the first instance of course the couple was Jewish. In the second instance they weren't necessarily when I first conceived of that story, but then I discovered that these two stories were actually one play, and then the process was sort of putting the puzzle pieces together, and one of those was finding a way to connect the stories in some organic way. So it made sense that they would both be Jewish stories."
Though The Wanderers does not present Satmar Hasidism in a very positive light, she said this was not her intention.
"I did not set about writing this play to tarnish or be negative about that community in any way," she told me. "I think there are things that are very beautiful about it. I'm saying that as someone who is observing from a distance. And like any community it has its share of challenges and flaws. I'm not one to judge a group of people. But I think that the particular characters in this play are not served by being members of that community."
Ziegler has said that she always feels great sympathy for her characters, that they are working hard to be their best selves — that things are not always "black and white," that if characters do the wrong thing they are not necessarily bad.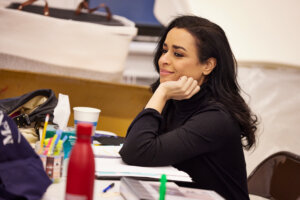 Actress Sarah Cooper plays the role of Sophie in The Wanderers. Photo by Jeremy Daniel
"I feel like I can't write a play unless l love everyone in it in some way," she said. "And I think that reflects the way I feel about people in general. I'm not saying I love everybody that I meet. But I do have a sense that people are sort of inherently good and trying their best. And I want to reflect that in the plays that I write. I want people to be nuanced. I want the audience to feel like they can see themselves in the strengths and weaknesses of the characters onstage. And that even seeing their weaknesses can be helpful because they can make us be more forgiving of ourselves. We all have those flaws and struggles. I suppose that's what I'm trying to capture."
The novelist Philip Roth is frequently mentioned in The Wanderers. There's a reason for that, she told me.
"Our director described Roth on the first day of rehearsal as the father of American wandering, or something like that," she said. "There's a sort of craving for more in all of his work. More life, more love, more sex, more experience. I think for any Jewish novelist, you're always writing in the shadow of Roth. So it felt appropriate that Abe [the Pulitzer-winning novelist in the play] is conscious of and inside of that lineage."
Getting back to that "pebble in the shoe" she mentioned. If, in some ways, all of her characters have one, what about her own shoe? Is there a pebble?
"Absolutely," she said, citing the difficulties of working as an artist while being the parent of two children, ages 6 and 9. "There's so much that feels so difficult all the time. I have lots of pebbles in my shoe. And I trust that I'm not alone in that."
And, as for the chronic dissatisfaction expressed by her characters, one of whom says, "Let us feel how fortunate we are" — does this apply to her as well?
"I want very badly to appreciate the blessings in my life," she said. "I think I write about that as a reminder to myself."
The play prominently features a Yiddish phrase: "Ein ba'al ha-nes makir b'niso."
"The translation of that line is 'those who are inside of the miracle don't know that they're inside of it,'" Ziegler said. "It's something like that. And I think that's so beautiful. It's just a miracle to be alive. And we're all inside of that. And if we could open our eyes to it, how beautiful that would be.
"But how challenging that is."
The Wanderers runs Jan. 26-April 2 at the Roundabout Theatre Company's Laura Pels Theatre.
The post Two very different Jewish couples confront a very similar sense of dissatisfaction appeared first on The Forward.