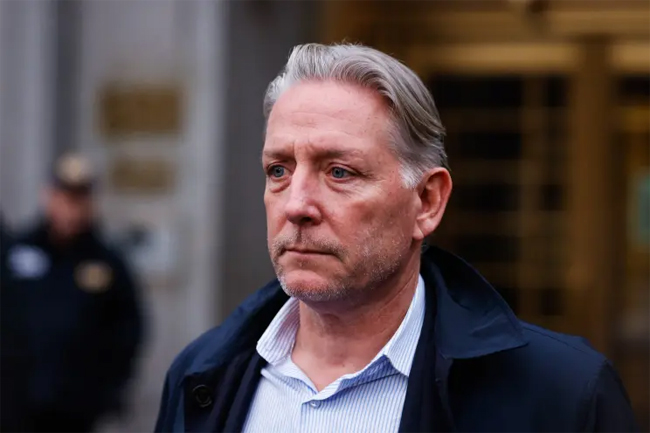 January 27, 2023   10:40 am
A former top FBI official in New York has been arrested over his ties to a Russian oligarch, law enforcement sources told ABC News Monday.
Charles McGonigal, who was the special agent in charge of counterintelligence in the FBI's New York Field Office, is under arrest over his ties to Oleg Deripaska, a Russian billionaire who has been sanctioned by the United States and criminally charged last year with violating those sanctions.
McGonigal retired from the FBI in 2018. He was arrested Saturday afternoon after he arrived at JFK Airport following travel in Sri Lanka, the sources said.
McGonigal pleaded not guilty to the four-count indictment unsealed Monday in Manhattan.
The judge ordered him released on a $500,000 personal recognizance bond plus restrictions on his travel and prohibitions on contacting anyone associated with the case.
He was charged along with a court interpreter, Sergey Shestakov, who also worked with Deripaska.
McGonigal, 54, is charged with violating U.S. sanctions by trying to get Deripaska off the sanctions list. McGonigal is one of the highest ranking former FBI officials ever charged with a crime.
"Charlie has had a long, distinguished career with the FBI. He's served the United States for decades," McGonigal's lawyer, Seth DuCharme, told ABC News in a statement. "This is obviously a distressing day for Mr. McGonigal and his family, but we'll review the evidence, we'll closely scrutinize it, and we have a lot of confidence in Mr. McGonigal."
McGonigal and Shestakov, who worked for the FBI investigating oligarchs, allegedly agreed in 2021 to investigate a rival Russian oligarch in return for payments from Deripaska, according to the Justice Department. McGonigal and Shestakov are accused of receiving payments through shell companies and forging signatures in order to keep it a secret that Deripaska was paying them.
Both face money laundering charges in addition to charges for violating sanctions. Each of four counts carries a maximum sentence of 20 years in prison.
"The FBI is committed to the enforcement of economic sanctions designed to protect the United States and our allies, especially against hostile activities of a foreign government and its actors," FBI Assistant Director in Charge Michael Driscoll said in a statement. "Russian oligarchs like Oleg Deripaska perform global malign influence on behalf of the Kremlin and are associated with acts of bribery, extortion, and violence."
Driscoll continued, "As alleged, Mr. McGonigal and Mr. Shestakov, both U.S. citizens, acted on behalf of Deripaska and fraudulently used a U.S. entity to obscure their activity in violation of U.S. sanctions. After sanctions are imposed, they must be enforced equally against all U.S. citizens in order to be successful. There are no exceptions for anyone, including a former FBI official like Mr. McGonigal."
After leaving the FBI, McGonigal subsequently worked for Deripaska through a law firm representing the Russian oil tycoon.
He made at least $25,000 working as an "investigator" for the law firm on the Deripaska matter, according to the indictment.
McGonigal then worked directly for Deripaska, getting an initial payment of $51,000 and then payments of $41,790 each month for three months from August 2021 to November 2021.
He told friends he was working for "a rich Russian guy," according to the indictment, and stressed his work was legal. In conversations about Deripaska, he would often be referred to by McGonigal and Shestakov as "the big guy" and "you know whom."

The U.S. Attorney's Office in Washington, D.C., unsealed a separate case Monday against McGonigal on charges he received $225,000 in cash from an individual with business interests in Europe who McGonigal knew was an employee of a foreign intelligence service.
The nine-count indictment alleges between August 2017 and September 2018, leading up to his retirement from the FBI New York Field Office, McGonigal concealed from the bureau his relationship with this unidentified former foreign intelligence officer all while traveling abroad with the person and meeting foreign nationals. The person is described as an Albanian national who was employed by a Chinese energy conglomerate.
The person later "served as an FBI source in a criminal investigation involving foreign political lobbying" over which McGonigal had a supervisory role.
In the court appearance in Manhattan Monday, assistant U.S. Attorney Derek Wikstrom said McGonigal would appear virtually Wednesday before a federal judge in D.C. to be arraigned on allegedly taking $225,000 from the Albanian businessman.
A lawyer for McGonigal has not responded to ABC News' request for comment.
Shestakov, 69, who was living in Morris, Connecticut, also allegedly lied to FBI investigators in November 2021 about his relationship with Deripaska. In addition to the other charges, he has been charged with one count of making false statements.
Deripaska, an aluminum magnate, was among two dozen Russians sanctioned in 2018 by the Treasury Department as punishment for "the Russian government's ongoing and increasingly malign activities in the world," according to Treasury officials.
The FBI searched his homes in New York and Washington in 2021.
The 55-year-old Deripaska is worth $1.7 billion, according to Forbes' Billionaires List, though he was worth nearly $7 billion in 2018 — the same year sanctions kicked in by the U.S.

Source: ABC News

-Agencies